A returning actor who came to reclaim his lost dream.

Tsukioka Tsumugi (月岡紬) is the leader of the Winter Troupe, who once aimed to be an actor. In the past, he auditioned for the God Troupe together with Tasuku but when the latter passed but Tsumugi failed, and his self-esteem decreased when the manager told him he was never going to make it with his acting skills. Tsumugi lost confidence in himself and his abilities, so it seemed like he gave it up. Later when he returned to Veludo, Tsumugi decided to give it another shot because in his heart he never fully abandoned it and wanted to act with his friend again. He went to the Mankai Company's Winter Troupe audition.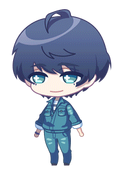 Tsumugi is a young man in his mid-twenties with short, dark blue hair and blue eyes. His taste in clothes is simple and his overall appearance doesn't stand out much, something that is also emphasized by his modest character. His usual casual clothes consist of a blue striped T-shirt, a pair of black pants, and black leather shoes. In addition to that; a brown trench coat with a blue inner lining. Whenever he pursues his hobby gardening, he also likes to wear a blue overall above.
Gentle, kind, and timid in nature, these are the words that describe Tsumugi's personality the best. He has a great need for harmony and dislikes any conflict, therefore he often tries to be the mediator for the other actors. Tsumugi is also known for his empathy and sensibility. However, this sensibility sometimes becomes his weak spot, thus leading him to lack any self-confidence and the ability to assert himself. Back in the day, he even gave up his dream because of the missing confidence in his acting. Although Tsumugi claimed to have no experience when he first auditioned, he is quite experienced, highlighting his humble nature. Through performing with Mankai, he started to have a bit more faith in himself, as well as his talent. Now Tsumugi doesn't shy away from expressing his own wishes and desires anymore, as much as he did previously.
During his university years, Tsumugi was an active theater student together with his childhood friend Tasuku. Both shared the same dream, to one day act together on the same stage as professionals. However, after getting criticized and watching fellow actors around him smoothly surpassing him, he started having self-doubts, resulting in him quitting acting altogether. Feeling betrayed, Tasuku could not forgive Tsumugi for this action and their long friendship came to an abrupt end. Nonetheless, Tsumugi could never forget his dream and love for the performance art, so he later went to the Mankai Company winter audition.
| Link Skill | Characters | Effect |
| --- | --- | --- |
| Revived Winter Troupe | | Big Sr Boost |
| Leaders | | Ac Boost |
| Freeter | | Co Boost |
| Good At Teaching | | Sr Boost |
| Childhood Friends | | Ac Boost |
"Good...morning… Sorry, I've never been a morning person..."
"I've actually given each flower in the courtyard a name. What are they? That's a secret."
"Sigh... Tasuku got mad at me again..."
"You know... I'm not always this patient. ...Just kidding."
"Nothing was watered here for three years."
"Um... I'm pretty ticklish there... if it's for you, I'll try to endure this, though."
"Hm? Do you need something from me?"
"Grow big and strong, little ones... ...Oh! I guess I got too caught up watering..."
"I'm always here to listen."
"Whoa! Ah, you just startled me, that's all…"
"As Garden Boss, I strive to protect all flora, big and small."
"The night breeze is pretty nice, isn't it. I think I'll do my script reading in the courtyard tonight."
"It's pretty late. Why don't you go to bed so you can get a head start tomorrow?"
Special Home Screen Quotes
[
edit
|
edit source
]
"It's Valentine's… Somehow, this is kind of embarrassing. I'll cherish this." Valentine's Day Dialogue
"Here, this is a return gift for last month but…Will a bouquet of flowers be too exaggerated?" White Day Dialogue
"Azuma-san recommended me to tell some lies today but… maybe I went a little overboard with Tasuku…" April Fool's Dialogue
"I get to spend my birthday surrounded by friends and acting... I must be truly blessed."
"A genius bursting onto the scene...Typical Homare-san."
"Tasuku, congratulations on your birthday. The fact that we are acting together again makes me really happy. Let's give our best."
"Sakuya-kun, from here on out The Show Must Go On! Let's do our best!"
"I wonder if Masumi-kun has received a birthday present from Director yet…?"
"Tsuzuru-kun, Happy Birthday. I'll look forward to playing a role in your next script!"
"Misumi, the moon's supposed to be beautiful tonight. Want to watch it while we eat cake?"
"I'm in your hands."
"Ah, sorry, can we take that from the top again?"
"My body is still so stiff even after stretching..."
"Homare always seems to be happy. I wonder if he has any concerns..."
"The plants in the courtyard are nice and healthy today."
"Might be better to pull back a little at this part..."
"Azuma's always so relaxed. How does he do it?"
"Act bigger, huh… I'll give it a shot!"
"Let's start with some speaking exercises."
"I really worry about Hisoka's health. He eats so many marshmallows..."
"It's hard not to call your friends by their old nicknames huh..."
"Nice work today. I hope I improved a bit."
With his fellow troupe leaders, he sang as A3ders! the games main theme song MANKAI☆Kaika Sengen.
Tsumugi's roommate is Takato Tasuku, his childhood friend.
He is good at listening and giving consultations as well as rock-paper-scissors.
Kazunari nicknamed him "Tsumu Tsumu".
In Sympathy for the Angel he played the leading role of the angel "Michael".
His favourite food is fried eggs but he has nothing he dislikes.

Tsumugi told the director that he wants to be an actor as versatile as eggs when they went grocery shopping together.

Tsumugi has learned much about flowers from his grandmother, such as how to take care of them and what they mean in the language of flowers.
Tsumugi is the only troupe leader who is not a minor.
Tsumugi tutors high school students in Language Arts and Classical Japanese.
Community content is available under
CC-BY-SA
unless otherwise noted.