Trip Events are slightly different from previous events. During Trip Events, collect as many Trip Points as you can to get rewards and Event Story chapters. The more you get, the better the prizes are.
How to Participate
Events are accessible through the Event button on the Play tab, or directly through the main page slider. If there is currently not an event ongoing, then the button will be grey and you will not be allowed to click on the page.
Overview
Trip Map
There is a Trip Map, with four Trip Spots. Each destination is associated with one practice sessions, and unlocking a destination earns 3x Gems.

A new Trip Spot is unlocked when all the prizes at the previous Trip Spot is unlocked.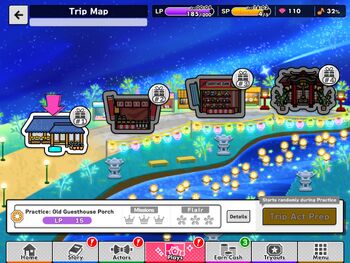 Do Trip Acts to earn Trip Points.

Trip Acts is the same as performance, with 4 different levels, Easy, Normal, Hard and Expert.
When you complete an Trip Act, a short skit based on the destination you're at will show instead of a mini-play. If you use the associated tryouts SSR and one of the event cards in your team, there is also a chance of hearing a short conversation afterwards.

Players who wish to obtain a specific Event Prize from a Trip Spot, should do Trip Acts in that Trip Spot to have a chance to obtain that prize.
Other Info
Rank in the leaderboards to get even more rewards and more copies of exclusive cards. Your rank tier is based by total amount of Trip Points total across all Trip Spots.
Birthday Revival Token

are a special point reward introduced in this event that allow you to scout either a past Mankai Birthday SSR of your choice or an SSR Mr. Triangle SSR 【Holy】, which raises a card's Lead Skill level to max.
Duration
Events usually start at 19:00 PST/PDT or After Maintenance (around 8-9 PM) and last 10 days, including the starting day and end at 23:59 PST/PDT.
After Events finish, the Event Programs will be available from the Main tab for a limited time. You will still be able to read Event Chapters after the Event has finished.
Special Cards
Some cards will offer bonused during Trip Acts.
Limited-time cards offered in the paired tryout will give big bonuses, shown with a

icon.
Birthday Cards from the Premium Tryouts of that month will give smaller bonuses, displayed with a

icon.
SSR and SR cards from the rewards list
Positive effects include:
Stats increased - Special Actors will provide increased stats during Trip Acts.
Increased Trip Points - Clearing an Trip Act with a Special Actor will result in an increase in rewarded Event Items.
Special Actors Item Boost
Special Actors will have stats increased and gains more Event Items. The bonus depends on how many Special Actors are on your show team)and how many times they have been bloomed.
| Type | Unbloomed | Bloomed+ | Bloomed++ |
| --- | --- | --- | --- |
| : SSR | +150 | +275 | +425 |
| : SSR | +100 | +225 | +375 |
| : SR | +100 | +225 | +375 |
| : SR | +50 | | |
| : R | +50 | +175 | +325 |
Stats increased
| Type | Unbloomed | Bloomed+ | Bloomed++ |
| --- | --- | --- | --- |
| | x2 | x3 | x4 |
| | x1.1 | x1.2 | x1.3 |
Practices
Raising the Flair point will unlock Mini Chat, which include two actors interacting.
Playing the limited practice sessions a certain number of times also unlocks Trip Event Mini Chat, which are a type of Mini Chat featuring six actors.
When a Trip Act pops up, meet the amount of Points required. Spend SP to play a show. Kame Boxes

and Kame Buns

will replenish it.
If you cancel a Trip Act, the required points will go down. Show Points correspond with the number of Event Points you earn.
Acts rotate in Easy, Medium, and Hard. Sometimes after those, there is a random chance of an Encore appearing. Expert require much more points.
Use Cheer Boosts with extra SP to multiply your points. If you fail to meet the Pt requirement of the Show, you have another chance to successfully meet it.
Don't cancel an Expert unless you run out of time because they are a good chance to get a lot of Event Pts at once.
Event Point Rewards
Event Prizes include Actors, Badges, Event Story and a special illustration. Event points rewards go from 50 - 1500000.Once you have gained all rewards from one location, the points gained from shows are not carried over to the points gained from the next location, but they are counted towards the overall points gained. Rewards usually follow this pattern:
Trip Spot #1
Point Rewards 50 - 300,000
Points required
Rewards
50
1 Event Story

100
1 Onigiri

200
3 Kame buns

333
1 Supporting Actor Award

400
500 Friend Points

500
1 Event Story

600
5 Gems

700
2 【Super Demon Coach】

800
2000 Coins

900
1000 Friend Points

1000
1 Onigiri

1200
2 【Super Demon Coach】

1500
1 Event Story

2000
3 Kame buns

2200
2 Spring Seeds

2500
【Super Demon Coach】

3000
5 Gems

3200
2 Summer Seeds

3500
1 Lead Actor Trophy

4000
1 R card
4200
2 Autumn Seeds

4500
2 Winter Seeds

5000
1 Event Story

5500
2 Spring Buds

6000
2 Summer Buds

6500
5000 Coins

7000
3 Kame buns

7500
2 Autumn Buds

8000
2 Winter Buds

8500
1 Bento

9000
1000 Friend Points

9500
1 Kame Box

10,000
1 Event Story

10,500
2 Spring Flowers

11,000
5 Gems

11,500
2 Summer Flowers

12,000
3 Kame buns

12,500
2 Autumn Flowers

13,000
1000 Friend Points

13,500
2 Winter Flowers

14,000
1 Onigiri

15,000
1 Event Story

16,000
5000 Coins

17,000
1 Kame Box

18,000
1 Supporting Actor Award

19,000
1 Event Story

20,000
1 R card
21,000
5 Gems

22,000
1 Lead Actor Trophy

23,000
1 Event Story

24,000
2 Spring Buds

25,000
3 Kame buns

26,000
1 Bento

27,000
1000 Friend Points

28,000
2 Summer Buds

29,000
1 Onigiri

30,000
Event Story

32,000
2 Autumn Buds

34,000
1 Kame Box

36,000
2 Winter Buds

38,000
1 Event Story

40,000
1 R card
42,000
3 Kame buns

44,000
3 Supporting Actor Award

46,000
3 Lead Actor Trophy

48,000
1 Bento

50,000
5 Gems

55,000
3 Kame buns

60,000
10,000 Coins

65,000
1 Kame Box

70,000
1 Event Story

75,000
3 Spring Seeds

80,000
1 R card
85,000
3 Summer Seeds

90,000
3 Kame buns

95,000
3 Autumn Seeds

100,000
5 Gems

110,000
3 Winter Seeds

120,000
1 Bento

130,000
1000 Friend Points

140,000
1 Kame Box

150,000
3 Spring Buds

160,000
1 Bento

170,000
3 Summer Buds

180,000
3 Kame buns

190,000
3 Autumn Buds

200,000
3 Kame buns

220,000
3 Winter Buds

240,000
1 Kame Box

260,000
2 【Super Demon Coach】

280,000
20000 Coins

300,000
1 Title Badge
Trip Spot #2
Point Rewards 310,000 - 700,000
Points required
Rewards
310,000
3 Premium Token

330,000
3 Kame buns

360,000
2 【Super Demon Coach】

400,000
1 Bento

430,000
3 Kame buns

460,000
2000 Friend Points

500,000
5 Gems

530,000
1 Bento

560,000
2 【Super Demon Coach】

600,000
30000 Coins

630,000
1 Kame Box

660,000
3 Kame buns

700,000
1 SR card
Trip Spot #3
Point Rewards 710,000 - 1,150,000
Points required
Rewards
710,000
3 Premium Token

730,000
20000 Friend Points

760,000
3 Spring Flowers

800,000
5 Gems

830,000
1 Bento

860,000
1 Kame Box

900,000
3 Summer Flowers

930,000
3 Supporting Actor Award

960,000
3 Lead Actor Trophy

1,000,000
10 Gems

1,050,000
3 Autumn Flowers

1,100,000
1 Kame Box

1,150,000
1 SSR card
Trip Spot #4
Point Rewards 1,160,000 - 2,000,000
Points required
Rewards
1,160,000
3 Gems

1,200,000
2 Kame Box

1,250,000
1 Bento

1,300,000
3 Winter Flowers

1,350,000
3 Supporting Actor Award

1,400,000
3 Lead Actor Trophy

1,450,000
1 Kame Box

1,500,000
5 Gems

1,550,000
1 Bento

1,600,000
3 Supporting Actor Award

1,650,000
2 Kame Box

1,700,000
1 Birthday Revival Token
1,750,000
3 Lead Actor Trophy

1,800,000
2000 Friend Points

1,850,000
1 Bento

1,900,000
3 Lead Actor Trophy

1,950,000
2 Kame Box

2,000,000
10 Gems
Ranking Rewards
Card and badges vary in each Event, however it follows a general format:
Rank
Reward
0.1 - 0.5%
0.6 - 1.0%
1.1 - 2.0%
2.1 - 5.0%
5.1 - 10.0%
10.1 - 20.0%
20.1 - 30.0%
30.1 - 40.0%
40.1 - 50.0%
50.1 - 60.0%
60.1 - 80.0%
80.1 - 100.0%
Past Trip Events