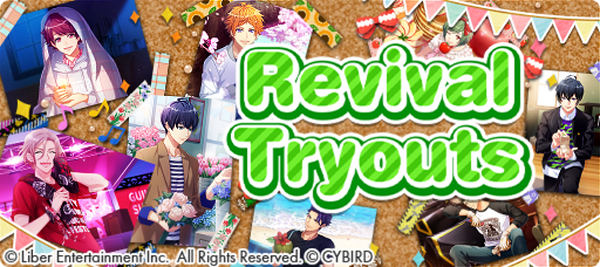 Revival Tryouts are a type of Choice Tryout that use Revival Tokens instead of Gems.
Like all other Choice Tryouts, you will choose from a certain set of cards, but Revival Token Tryouts include Cards that were either released in previous Tryouts or Events. Using one Revival Token of some rarity (R, SR, SSR), you are able to choose one card from the set of that corresponding rarity.
Revival Tokens will expire after the tryout is over, so use them ASAP! The Tokens can be gained from Event Prizes from the current Event that offers them.
Note:
Revival Token Tryouts are not to be associated with Revival Tryouts. These are a kind of Choice Tryout where you can choose which card you like using Tokens. They are also not affiliated with Revival Events.
Cards in these tryouts does not offer event bonus.
On some level, they are similar to Birthday Revival Tryouts, however, the latter offers Mankai Birthday Cards instead of Event or past Tryout ones.
Overview
| Tryout Type | Cost 1 Pull | Rarity |
| --- | --- | --- |
| SSR Revival Tokens | SSR Revival Token x1 | SSR |
| SR Revival Tokens | SR Revival Token x1 | SR |
| R Revival Tokens | R Revival Token x1 | R |
Past Revival Token Tryouts
October 2020
This tryout ran from October 15, 2020 19:00 PDT, to October 31, 2020 18:59 PDT.
October 2021