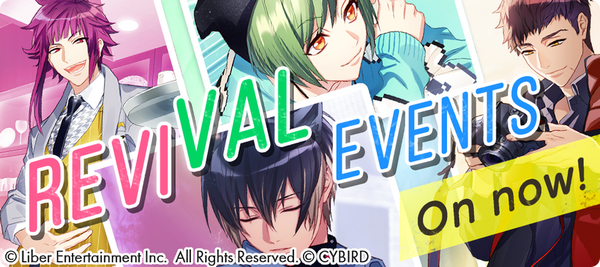 Revival Events, are chances to complete past events that you have missed. During Revival Events, select a previous Event from the list to complete one at a time. Special events such as Campaigns, Anniversary type Events, or Collaborations will not be available. More recent past Events that just came will also not be available. Revival Events are spontaneous and are not held according to any fixed interval.
How to Participate
Events are accessible through the Event button on the Play tab, or directly through the main page slider. If there is currently not an event ongoing, then the button will be grey and you will not be allowed to click on the page.
Overview
From the Event page, select the Event you want and confirm it. You can only choose one at a time and switch to another Event once you have obtained all the prizes for the selected one, so choose wisely!
You are able to view the rewards by pressing on the Rewards icon

next to the Event banner. You can also see how many copies of the limited SSR you have acquired.
Follow the rules for the type of Event you chose.
If there was a ranking system for the Event you chose (Troupe Events or Season Events), it will not be available anymore.
After you complete a Revival Event, Event Pts or Items are not carried over to the next one.
Duration
Events usually start at 19:00 PST/PDT or After Maintenance (around 8-9 PM) and last 5 days, including the starting day and end at 23:59 PST/PDT.
After Events finish, the Event Programs will only be available from the Main tab. You will not be able to further play the event and get points for it, but may look at the list of Rewards, etc. The Practice will disappear and you will no longer be able to play them.
You will still be able to read Event Chapters after the Event has finished.
Rewards
Important: Revival Event Point/Item rewards for each Event will be different from the original event.
Previously unlocked parts of the Event Story cannot be unlocked a second time.

If the card(s) were obtained as Point rewards during the original Event period, the Event reward list will show them as already claimed. There are 2 copies of each SR and above Actor in the Event Pt reward list. Those who have previously obtained one of these cards in the original Event can get the card available for the lower amount of total Event Pts.

N and R Cards
SR and SSR cards (2nd copy)
If the 1st copy is obtained as a Point reward in a Revival Event, that same first copy cannot be acquired a second time by selecting the same Event again in future Revival Events. There are 2 copies of each SR and above Actor in the Event Pt reward list. The second copy can be obtained by getting the higher number of total Event Pts, contrary to the one above.

No rewards for ranking in the leaderboards are available.
Rewards Overview
| Rarity | Points (1st copy) | Points (2nd copy) | Points (3rd copy) | Points (4th copy) |
| --- | --- | --- | --- | --- |
| N | | | | |
| R 1 | 4,010 | 40,010 | 90,010 | 150,010 |
| R 2 (if available) | 20,010 | 80,010 | 110,010 | 200,010 |
| SR 1 | 360,010 / 3,601 | 430,010 / 4,301 | | |
| SR 2 (if available) | 460,010 / 4,601 | 560,010 / 5,601 | | |
| SSR | 700,010 / 7,001 | Variable | | |
Practice
Each Revival Event will have a different Revival Event Practice unique to that specific one only.
Regardless of which Event is chosen to Revive, the Practice will be the same.
Important: Revival Event Practice differs from the Event's original run. It is not possible to obtain Mini Chats from previous Events. When you switch to a different Event after completing the previous one, Practice progress will NOT be reset.
Shows
Revival Event shows will appear randomly during Practice sessions. Depending on which Event has been selected, Shows may be different.
To select the Starting Level of Event shows, first choose you Event and you will be brought to a page. This function is only available during Revival Events. The show level can be set based off of a preset difficulty or by manually choosing it.

Show levels will increase and decrease like regular, but if you choose a difficulty Hard, the range of required points will be higher.
Once all rewards have been claimed, Event Shows will not occur unless a new Event for the Revival Event has been selected.