Oh no! We need to help him.
This article is short and need more information. Please cheer Taichi up by filling out more information. Click here to make him happy.

These characters appears or are mentioned in the Main Story and Event Story.
Yukio Tachibana
Yukio Tachibana is Izumi's father and the founder and previous director of Mankai Company.
Appearance
He has never made a physical appearance in the game nor the Anime.
History
He was first mentioned in the prologue, chapter 1 when Izumi finds the Mankai Theater. At this time he had mysteriously disappeared and was presumed dead.
Kaya Mizuno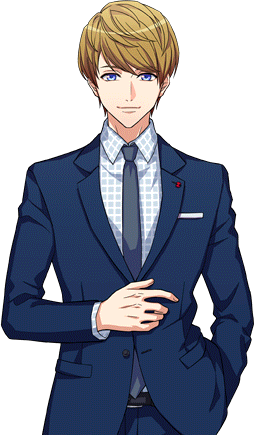 He is Tsuzuru's childhood friend. He first appeared in the story of A Clockwork Heart. He works at the Mizuno Enterprises, a leading firm in the entertainment industry with multiple agencies, theaters, and record labels and offered Mankai Company financial support.
History
He first met Tsuzuru during elementary school. Tsuzuru would often look after him. Mizuno would often read the stories Tsuzuru had written. One day, Tsuzuru wanted to buy a gift for his older brother's birthday, but he didn't have much pocket money. Mizuno wanted to give him some money, but Tsuzuru refused saying that you don't need to buy an expensive gift to cheers someone up, instead put your heart into it. Mizuno later suggested that they could perform his stories for his brothers' birthdays, which Tsuzuru happily agreed to. After the success of their first performance, they promised to perform one for Tsuzuru's younger brother too.
But this changed when Mizuno told his mother about Tsuzuru's family situation. His mother wasn't happy with them playing together and made him change school. After that incident, Mizuno had been ashamed of facing Tsuzuru. After spotting him again during the Winter Troupe's showdown act with the God Troupe, he learned that Tsuzuru was a scriptwriter for Mankai, and checked out one of their plays.
Mizuno decided to write a letter to Tsuzuru and explained everything, as well as apologised. Tsuzuru was happy and showed that he truly missed him. They met up again after the play and Mizuno told him that he would always support him even when they were apart.
Hakkaku Ikaruga
Hakkaku is Misumi's and Madoka's grandfather. He first appeared in the Captain Sky's Pirates event story.
Appearance
He has never made a physical appearance in the game nor the Anime.
History
(Please add)

Madoka Ikaruga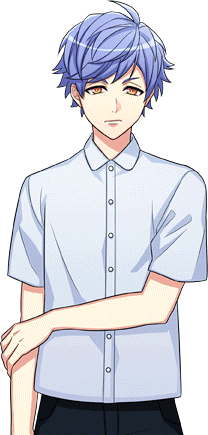 He is the younger brother of Misumi Ikaruga, and had his first appearance in the Captain Sky's Pirates story.
History
During the story, he gave Izumi and Muku a treasure chest that was left behind after his grandfather's passing. Misumi went back to his house and threw a paper plane into Madoka's room, telling him how proud of him he was. Madoka and Misumi grew up in a distant relationship because of their father. When they were younger, his father told him to stay away from Misumi so that he wouldn't end up being just as weird. Madoka appreciates Misumi even if he doesn't show it. Misumi describes him as very smart but can be cold to people.
Tangerine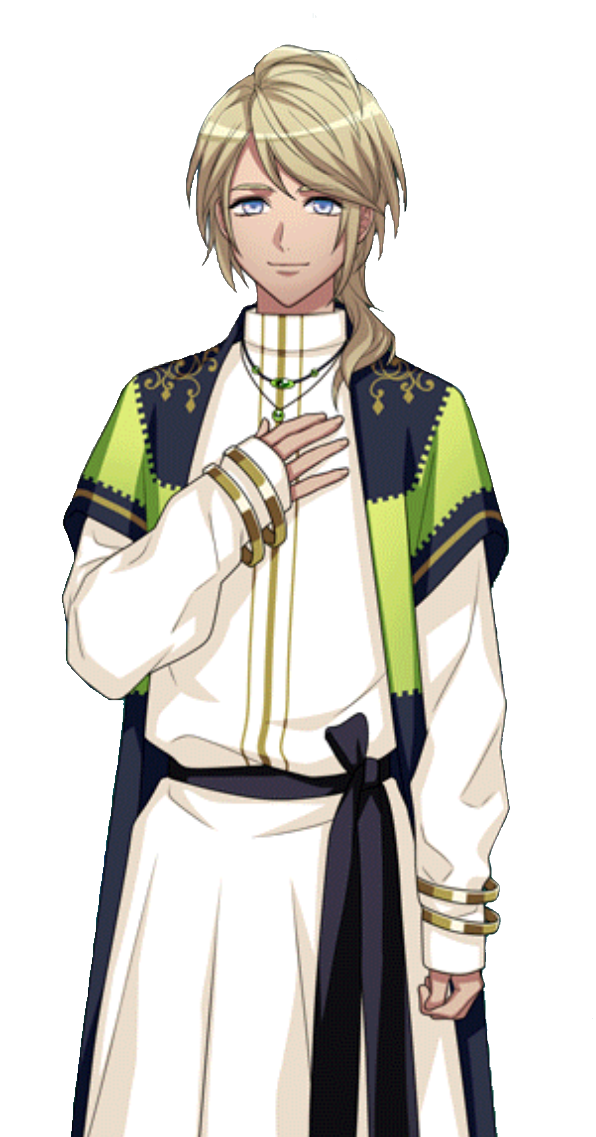 He is Citron's youngest half-brother and appeared during Episode 8 - The Greatest Journey when Citron returned to Zafra. He looks up to Citron and thinks he is the perfect choice to the throne.
History
When Citron returned to Zafra, Tangerine was the first one to figure out the plotting of his brothers to get rid of Citron. He also helped the Spring and Winter Troupe when they had to rescue Citron and guided the people out of the burning theater.
In the end of Episode 8, the king of Zafra chose him to be the heir of the throne, due to the sabotaging of his brothers and Citron's outing.

Tadoru Minagi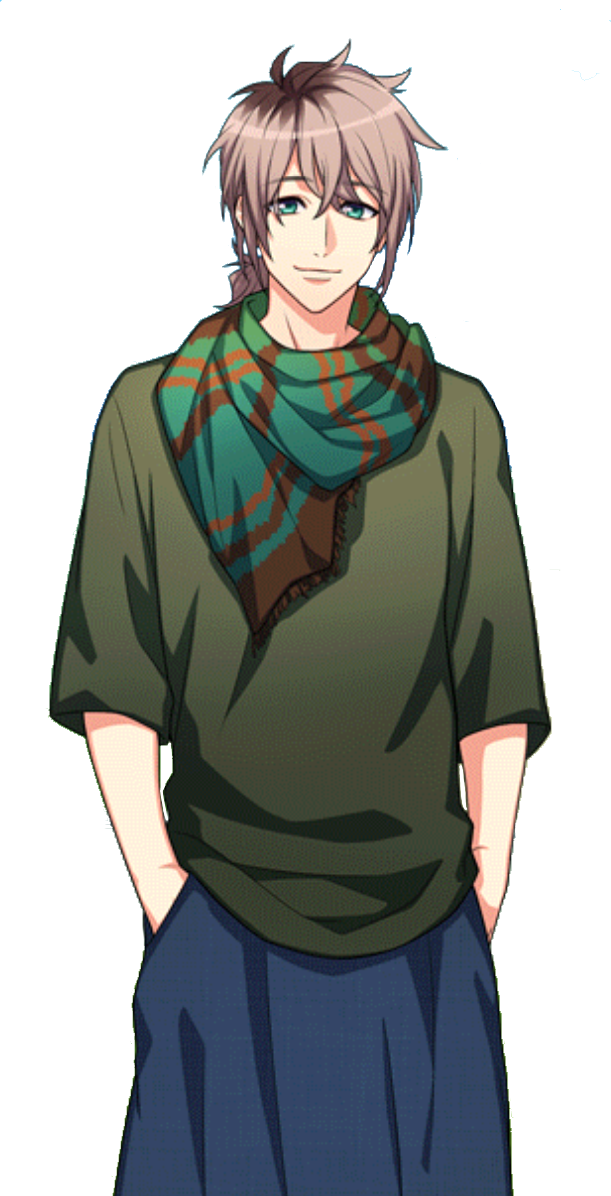 He is the oldest brother of Tsuzuru, and had his first appearance during Episode 8 - The Greatest Journey.
Personality
He is very lazy and carefree. Even so, he still cares for his younger brothers. Tsuzuru describes him as eccentric, as in bit of a character. He also appears to be a bit sly after telling Itaru about how he bribed someone to get into a sacred place.
History
He works as a curator of fine art and travels around the world a lot. During the time they were in Zafra, he gave Itaru a Japanese sake because the people loved it, which later helped him and Chikage get pass some soldiers to rescue Citron.
He feels some shame after running away from the trouble at home and giving Tsuzuru all the responsibilities. Although, he is happy after learning that Tsuzuru has achieved his dream as a scriptwriter.
August
This contains spoilers as the character has not appeared in the EN server, but has been mentioned.
August worked at the same agency as Hisoka and Chikage, being the one who invited Hisoka to join. He is shown to be very caring and intelligent and always giving Hisoka sweets.
History
He worked in a candy store under the alias, Misha.
As a spy, one of his tasks is to make serums that will kill spies if they fail the missions. During a mission with Hisoka, he was shot and were forced to the end of a cliff. He gave Hisoka the serum and told him to jump to save him. Before the mission, he had changed the serum so that they would temporarily lose their memory, because he didn't want to lose his friends. He saved Hisoka by pushing him over the cliff and sacrificed himself.

Fuyuki Takato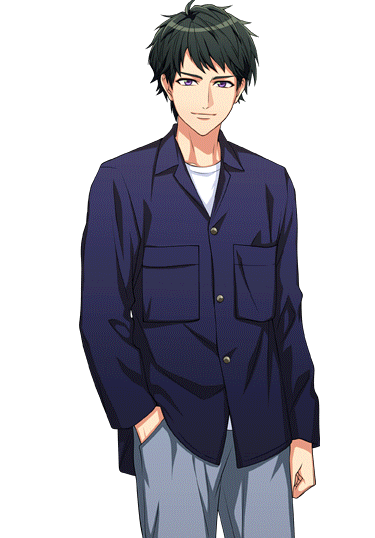 He is Tasuku's older brother. He first appeared in Die by the Sword chapter 5 where he meets Tsumugi and the Director near the Veludo train station. He works as a police officer in Tasuku's and Tsumugi's hometown. He is very good in mahjong.
Personality
Izumi describes him as the polar opposite of Tasuku, with a gentle aura. His charm makes him easily loved by others. Fuyuki and Tasuku's relationship is a typical brothers relationship. Overall they get along, but Fuyuki likes to dote on Tasuku a lot. He has a collection of DVDs with all of Tasuku's performances. He even helped Tsumugi when he and Tasuku had been fighting, by filling out the surveys of Tasuku's performances.