Miyoshi Kazunari
【Standing Rehearsal】


【立ち稽古】 三好一成

Stats
Rarity
Max Level:
1/60
(min/max):
1,412/--
(min/max):
1,121/--
(min/max):
832/--
*Max refers to stats at maximum level (bloomed twice and completely special-trained.)
Information
How to Acquire:
Available in every tryout.
Quote
"Yay! Practice start☆The somewhat sad lines chosen today seem perfect♪ I'm more ready than Tenten!"
Backstage Story
Date Nao!
Lead Skill
All Sorts of Preparations Complete
Small Co increase for all units.
Adlib Skill
Own Way of Moodmaking
20% probability of Co increase
Chibi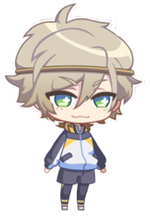 Community content is available under
CC-BY-SA
unless otherwise noted.