Minagi Tsuzuru
【About To Bloom】


【開花の予感】 皆木綴

Stats
Rarity
Max Level:
1/80
(min/max):
1,300/--
(min/max):
927/--
(min/max):
1483/--
*Max refers to stats at maximum level (bloomed twice and completely special-trained.)
Information
How to Acquire:
Initial

Available in the Premium Tryouts and every Event Tryouts.
Quote
"I might be late bloomer, but I swear I`ll make you proud."
Backstage Story
Sleeping Brother
Lead Skill
Hard working Dandelion
Increases Team`s Dr somewhat
Adlib Skill
Passion for Playwriting
30% chance that Dr will increase moderately
Chibi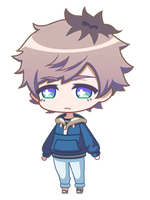 Community content is available under
CC-BY-SA
unless otherwise noted.