Login Bonus, also known as Daily Gift is a set of bonus rewards you will receive each time you log in. Login Bonuses come in 2 types: Daily and Special. Rewards are usually Gems, but during event periods Special Login Bonuses will offer other items such as Supplies (Bento, Kame Box, etc.) or Training Items.
If you hit a certain streak of days, you will get a Bonus Gift. Your streak will not reset if you miss a day, but continue when you login the next time. If you miss a day, you resume from the day that you missed.
Daily Gift
Every day you login you will receive 1x Gem
as a daily bonus. However, on a certain number of accumulated days you will receive an extra amount. You will also receive 5x Gems when login after being gone for a few days.
| Streak | Reward |
| --- | --- |
| 10 Days | x5 Gems |
| 30 Days | x10 Gems |
| 30 Days | x10 Gems |
| 60 Days | x10 Gems |
| 100 Days | x10 Gems |
| 150 Days | x15 Gems |
| Every 50 Days | x20 Gems |
| 365 Days | x20 Gems |
| 400 Days | x20 Gems |
New Player
When logging in for the first seven days, players will get x25 Gems
for the first 6 days and x15 Premium Tokens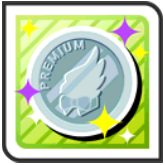 on the last.
| Day | Reward |
| --- | --- |
| Day 1 | x25 Gems |
| Day 2 | x25 Gems |
| Day 3 | x25 Gems |
| Day 4 | x25 Gems |
| Day 5 | x25 Gems |
| Day 6 | x25 Gems |
| Day 7 | x15 Premium Tokens |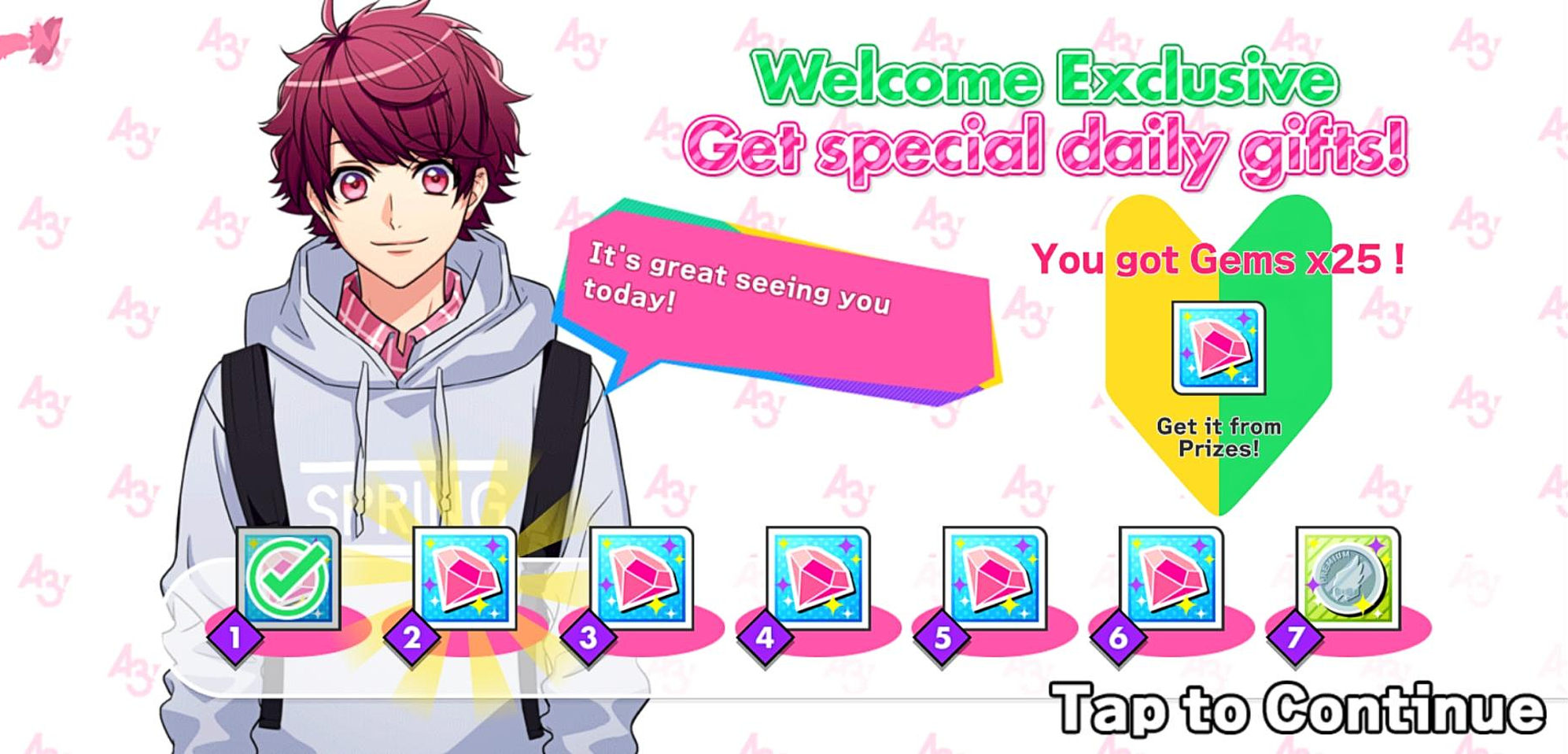 Special Daily Gifts
On special occasions, you will also receive extra rewards. This is not limited to, Actor birthdays, Events and Campaigns, Anniversaries, hitting certain number of downloads or followers on Twitter, as well as other holidays. Rewards may include common Items found in the inventory, as well as Cards.
Event
Events usually give a pattern of Bentos and Kame Boxes, for a period of 6 days but exceptions apply. This is the general rule of follow:
| Day | Reward |
| --- | --- |
| Day 1 | x1 Limited Kame Box |
| Day 2 | x1 Limited Bento |
| Day 3 | x1 Limited Kame Box |
| Day 4 | x1 Limited Bento |
| Day 5 | x1 Limited Kame Box |
| Day 6 | x1 Limited Bento |
Birthday
Players will receive x15 Gems
on each Actor's birthday.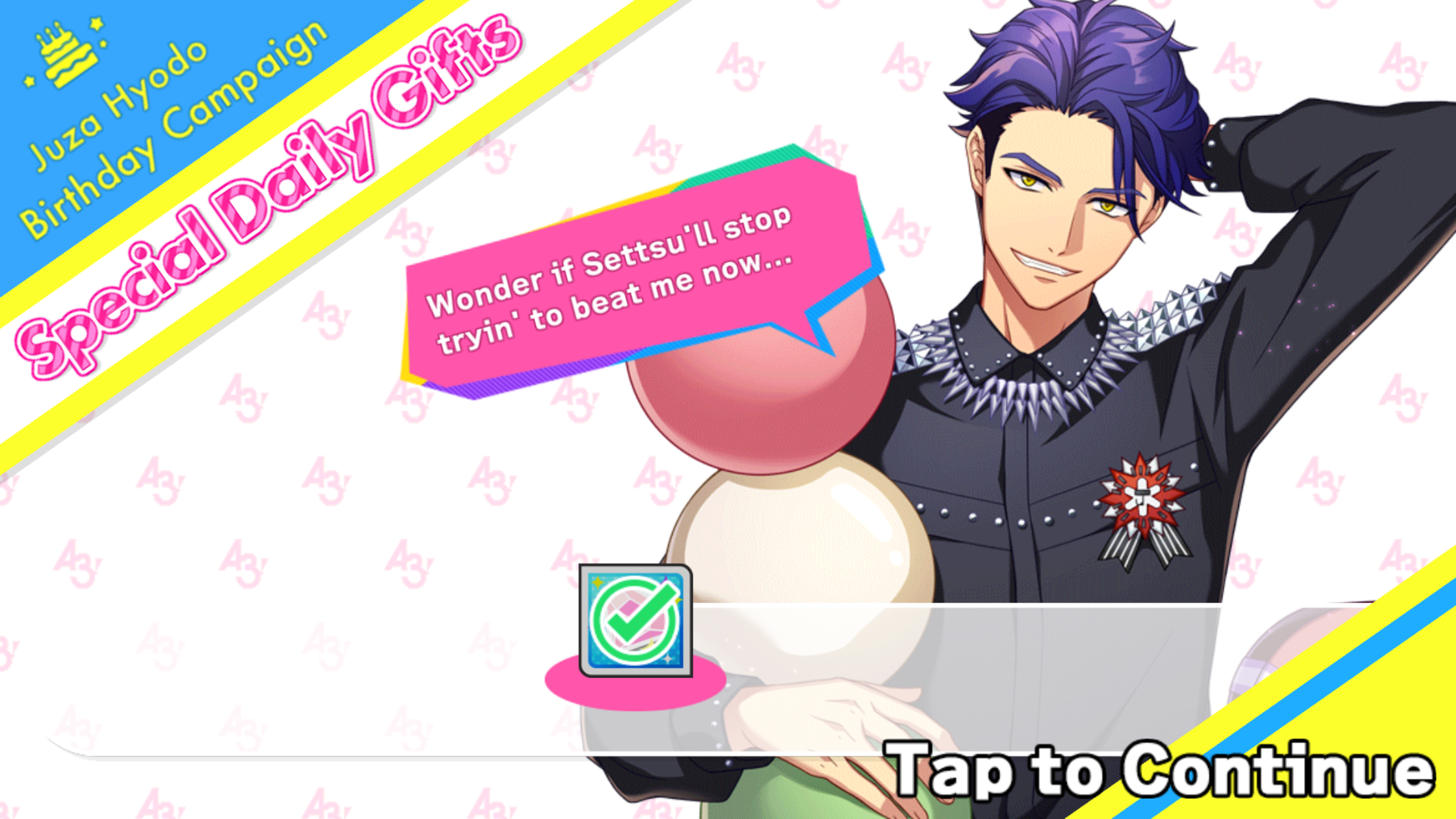 Example Used: Juza's Birthday
Special Days
Date
Occasion
Reward
Apr 1 2019
April Fool's
x1 Isuke Matsukawa R

【The Prince of April Fools'】




Oct 15 - Oct 25 2020
1st Anniversary
x150 Gems

Dec 24, 2020
Christmas
x30 Gems

Dec 30 2020
New Year
x1 Sakuya Sakuma R

【Mankai ☆ New Year】




Jan 20, 2021
Twitter Special (hit 30,000 followers)
x30 Gems

Apr 1, 2021
April Fool's
x1 Ken Sakoda SSR

【The Host of April Fools'】



Daily Login Lines
2 Actors each day will have a conversation, a total of 12 days that will repeat in a loop.
Day
Lines
Audio
Day 1
Sakuya: Tasuku! How can I become as buff as you?

Tasuku: You need to exercise and eat properly every day. Wanna go running together tomorrow?

nil
Day 2
Masumi: I thought I was gonna die if I didn't see you. You'd better take responsibility and marry me.

Kazunari: The things Massu says sometimes are pretty cray, but also hilarious! Welcome back!

nil
Day 3
Tsuzuru: Huh? Weren't you doing dinner today, Omi?

Omi: Yup. I'm thinking beef stroganoff or paella for tonight. Which do you prefer?

nil
Day 4
Itaru: Oh, Banri. You can't clear this place without an item so watch out.

Banri: You're telling me this now?! Ugh, shit! Game Over... Seriously, I gotta use another Continue?

nil
Day 5
Citron: Homare, you like very heart-working plays, yes?

Homare: Heart-working? I don't think that word is a part of my lexicon...

nil
Day 6
Tenma: ...Why am I getting goosebumps?

Azuma: Oh, my. You have such an overactive imagination, Tenma. I don't mean any harm, so come here.

nil
Day 7
Yuki: Pay attention when you're sewing, you dumb dog! Sheesh, don't cry to me when you hurt yourself...

Taichi: Yukiiii, I can't pin this properly, it's too hard... Oh, welcome back!

nil
Day 8
Muku: Oh yay, you brought cake! Should I pick the chocolate or strawberry shortcake?

Juza: We can share. You can have the strawberry from my cake, Muku.

nil
Day 9
Misumi: Hey! That marshmallow looks like a triangle!

Hisoka: Too bad. It's a rhombus.

nil
Day 10
Tsumugi: Sakyo... You seem more tired than usual. If you want to talk, I'm always available.

Sakyo: Tch... Don't get too close. It always feels like you can see right into my mind, and I don't like it.

nil
Day 11
Chikage: Today's spice is this, clove. It has a wonderful smell.

Guy: Glove? Are we having a baseball game?

nil
Day 12
Kumon: Hey hey Azami! Ya think you could transform my face to look like Juza's with makeup?

Azami: You have a similar face structure, so if I make your eyes more slanted it could work... I'll try later to see if I can.

nil
Community content is available under
CC-BY-SA
unless otherwise noted.