This article lacks information!
This article is in need of more information to be complete. Please help the wiki by contributing. Click here to edit.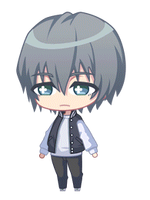 Kengo Kitagami (北上 健吾) is an Autumn Troupe extra.
Appearance
Kengo has grey hair and blue-grey eyes.
History
(Please add)
Etymology
The name Kengo means "healthy, strong" (健) (ken) and "I, me" (吾) (go).
Kengo's surname Kitagami means "north" (北) (kita) and "above, top, upper" (上) (kami/gami).
Normal Home Screen Quotes
| Occassion | Line | Audio |
| --- | --- | --- |
| Morning | Morning. Wish I didn't have class today. | |
| Noon | Thought of good ad lib line. Look forward to it. | |
| Evening | Tonight's dinner is curry? I guess I can hang on until the end of practice. | |
| Night | The play starts tomorrow, huh. I'm kinda excited. Night. | |
| Regular | I don't like doing much, but I like acting. | |
| Regular | ...What? | |
| Regular | ...Practice? But I'm tired... | |
| Regular | Give me a character with the fewest lines possible. | |
Special Home Screen Quotes
Occassion
Line
Audio
Player's Birthday
You want curry for your birthday? That's a pretty...unique answer.
 
Kengo's Birthday
 
1st Anniversary
It's been a year, huh?

Should I get us some cake?

2nd Anniversary
Congratulations on the 2nd anniversary. I'll buy you whatever you want to eat.
Practice Quotes
Line
Wonder if I'll remember my lines...
Do I have any eating scenes?
Why does this character move around so much...
You can't cut things short here?
I'm hungry...