When uploading a picture, please follow our policies about images. Some of the pages uses the Extension:DPL, which will display images automatically as long as they are added to a category, and for some, linked to the characters shown in the image.
If the Images doesn't show up: If the image don't show up after being added to a category it is because the DPL takes some time to display it. It should show up at the Preview Mode, if not, give it 5-10 minutes and then try again or message Nikathelostio about the issue.
Uploading a image
Name it properly! Read the table underneath for explanation.
Give credits (link) or use the License option if it is from another site
Add a category
Tutorial
At the top of the page click the 3 dots and choose image.

Click "Choose File" next to the "Source filename:" box to find the image on your computer.
You can rename the image in "Destination filename:" if you would like.
In the "Summary:" section, you can add a description, links and a source to the image.
Add a category, this is mandatory! (Refer to the table underneath or choose 'Does not fall in any other category' which will add the image to the Category:Gallery)

To select a category, click on it and the + sign will be shown as a - sign, the category box will be a darker colour. To remove a category click on it again.
Selected categories will be shown next to Categories added:.

Select the license in the "Licensing:" section. (This is optional).
Click "Upload file" to upload an image to your wiki, and then place it into your article!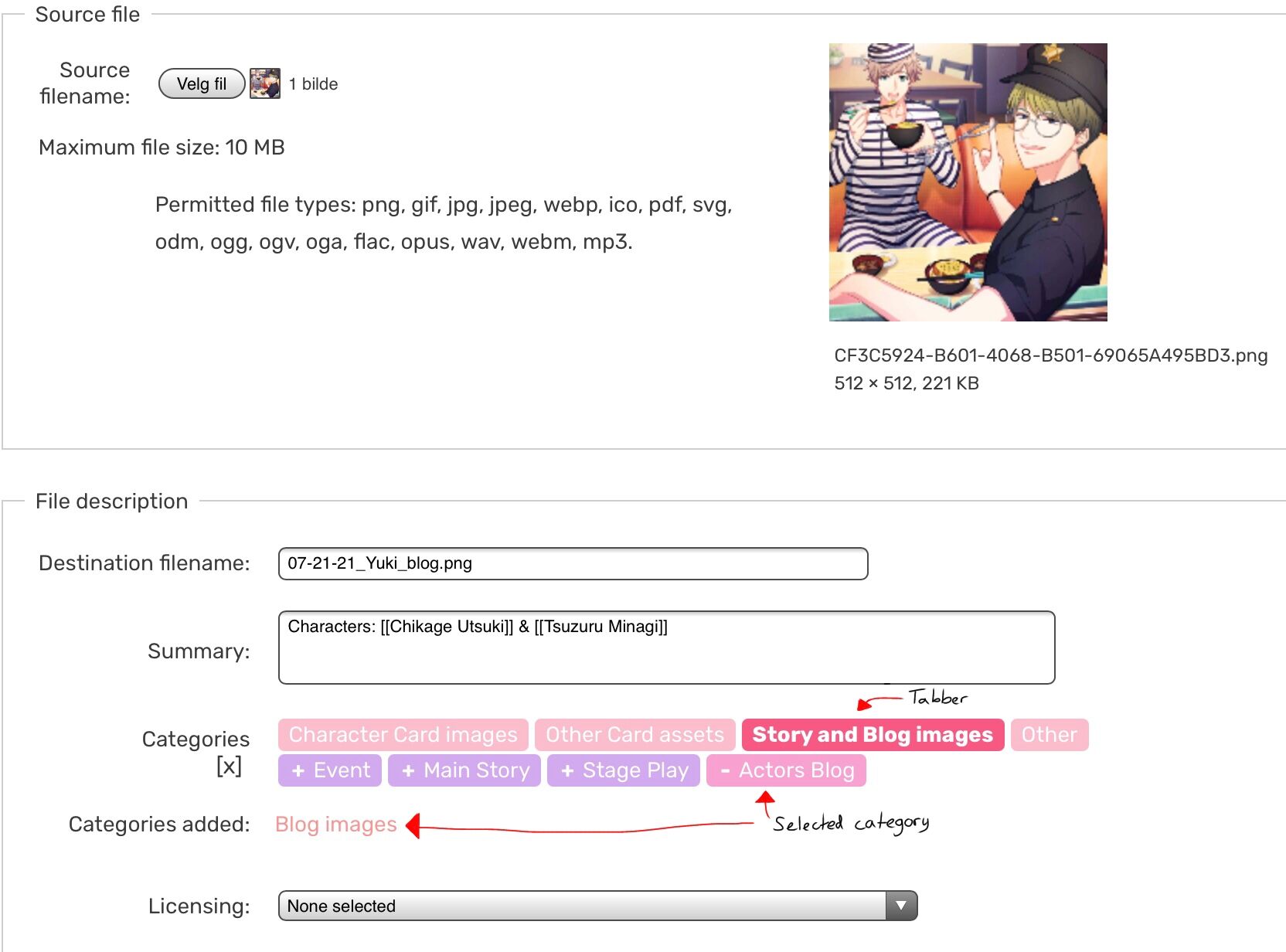 An example of an image from the Actor's Blog with a description (to have the image show on Tsuzuru Minagi/Gallery and Chikage Utsuki/Gallery). A category has also been added (Actor's Blog=Category:Blog images).
Naming an image
Summary
In short you have to remember the following three things:
Add a category