Ikaruga Misumi
【Welcome to the Circus!】


【デルタサーカス!】 斑鳩三角

Stats
Rarity
Max Level:
1/100
(min/max):
1,525/--
(min/max):
1,921/--
(min/max):
1129/--
*Max refers to stats at maximum level (bloomed twice and completely special-trained.)
Information
How to Acquire:
Initial

Available in the Premium Scout and every Event Tryout.
Quote
"I find all sorts of jobs, when searching for triangles!"
Backstage Story
Warm Shelter
Lead Skill
△Triangle Fest△
Increases Team's Ac a lot
Adlib Skill
Natural Juggler
20% chance that Ac will increase a lot
Chibi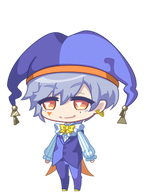 Community content is available under
CC-BY-SA
unless otherwise noted.