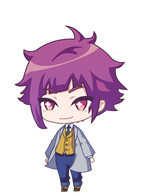 | | | |
| --- | --- | --- |
| " | My heart is a strumming, humming mandolin, toppling to the ground! | " |

Homare Arisugawa (有栖川 誉 Arisugawa Homare) is a member of the Winter Troupe and a passionate poet. He is always searching for new and interesting forms of art and quickly joined the Mankai Company for the artistic value of acting that inspired his poetic heart. Homare is often seen as a strange fellow for his sudden outbursts of poetry most people do not understand.

Homare shares Room 205 with Hisoka.
Appearance
Homare is an adult man in his twenties with dark magenta hair that is cut in a different length and red eyes.
Homare is a man with a classy yet unique style who prefers to wear suits and ties rather than casual and modern clothes that he usually wears a black and white patterned tweed shirt with a black tie and a mustard yellow waistcoat. In combination with a pair of dark blue jeans, brown leather shoes and socks in the same mustard yellow color. He wears a grey coat on top to finish his look.
Personality
Eccentric is the word that comes to mind in regards to Homare. Often his behavior would be considered strange, as he likes to recite the weirdest poems that he wrote in a passionate fashion whenever he gets inspired. His aesthetic sense is definitely not an ordinary one. However, even though his passion for art can be so extreme, it becomes almost embarrassing to witness. He is good at taking care of those around him as shown when Homare often makes sure Hisoka doesn't catch a cold while he suddenly falls asleep. Having an unusual personality himself, he is very open to others and doesn't judge other people's quirks as negative. However, sometimes he points out other's faults at the wrong time, causing things to go sour. Homare calls himself a 'Broken Cyborg,' thinking that he cannot understand other's emotions and what they are thinking.
History
Homare was a surprisingly successful poet before and after he became an actor for the Mankai Company, even having some of his poems published as a renowned poet. Poetry was only a hobby back when he worked as a copywriter. He never aspired to be a poet, but then his editor noticed his hobby and encouraged him to pursue poetry, by suggesting him to participate a poetry contest held by the publishing company they worked for. Homare won the contest and published his first anthology, and since then he became a poet.
Homare joined the ensemble after he watched a street performance by the Winter Troupe and got invited to participate by Izumi.
Etymology
Given name: 誉 means (Honor) Surname: Arisugawa means "exist" (有) (ari), "nest" (栖) (su) and "river, stream" (川) (gawa).
Roles
Trivia
He often gets scammed when getting praised for his artistic value (ex. bought an expensive vase).
Homare frequently gives his poetry as gifts, in which most people kindly refuse.
He cries when he is drunk.
He excels at ballroom dancing and has learned waltz since childhood.
He has a pet dog named Ariel.
References