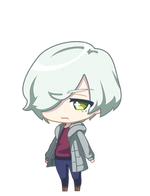 Hisoka Mikage (御影密) is a member of the Winter Troupe. An unidentified man who has no memory to go off of, he joined after he was found collapsed in front of the theater. He can fall asleep any time and anywhere, and is a man of few words. Although Hisoka has no home nor any memories of who he was before he collapsed, besides his own name, he is skilled at acting and very light on his feet.
Appearance
Hisoka is a young man with silver hair that often falls in front of his face and covers his lime-green colored eyes. He prefers to wear clothes that keep him warm and comfy while he often falls asleep in them. Hisoka wears a dark red shirt, a pair of dark blue jeans and brown leather boots. Above it all, he wears a long, mouse-gray cardigan.

Personality
Hisoka is a calm and silent person, who uses very few words to communicate with others. Furthermore, he often seems to space out and has his attention elsewhere, yet is good at observing his surroundings and notices even the most insignificant details. Hisoka often falls asleep even in the middle of practice or a discussion, but can smoothly be woken up by feeding him his favorite food, marshmallows. He is by far the most mysterious of all Mankai actors and doesn't tell others about himself, not that he knows much after his amnesia anyway.
History
On the way home from performing a street act to attract new actors, Izumi and rest of the Winter Troupe found Hisoka lying asleep in front of the theatre. Later, after he woke up, he could neither remember where he came from nor who he was. All memories were gone due to his amnesia, with the exception of his name. Seeing an opportunity, Izumi offered him a place in the dormitory to stay, in exchange for him acting in the Winter Troupe.
Before he joined the Mankai Company, he was a spy called December. He was found by two boys, August and April who introduced him to a secret organization. At first, he declined because he didn't like April. But, after a few days when they came back for him, he accepted because he liked the gingerbread they gave him. Some years later they were sent to Japan on a secret mission.
Little did they know that the enemies knew they were coming. As Hisoka and August was trying to escape, August was shot and they were forced to the end of a cliff. August told Hisoka to jump and swim away, but he refused saying he would rather die with him.
August had been tasked to make a serum that would kill them in case the mission failed, but he changed the serum so that they would temporarily lose their memory, because he didn't want to lose his friends. Hisoka didn't know this when he drank the serum, and in his dying breath August told him the truth. August pushed Hisoka over the cliff and he was able to escape. He was later found by Izumi and the Winter Troupe.
Relationships
Hisoka has a quiet and calm nature and so he maintains a good relationship with the other members.
Etymology
Surname: 御 (honorable) 影 (shadow, silhouette, phantom)
Given name: 密 (secrecy)
Roles
Trivia