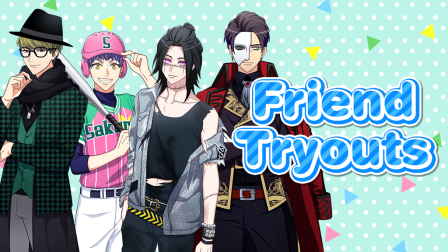 Friend Tryouts is the last gacha in the Tryouts tab. Similar to Premium Tryouts, this gacha is permanent. It does not offer any limited cards. The gacha, unlike the other two, uses
Friend Points, which you can obtain by doing friend-relating things like sending flowers to friends.
The cards you can obtain range from Normal (N) to Rare (R) in rarity. One pull for one card costs 200 Friend Points, and a ten-pull costs 2000 Friend Points. For all R-rarity guaranteed cards, you can use 10000 Friend Points for a 10x pull and 1000 for a single pull.
New N and R cards from Mankai Plays are added periodically some time after a couple of new plays pass.
Overview
Note: The pulling only R-rarity cards feature is not yet featured in the EN version of A3! yet.
| # of Pulls | Cost | Rarity |
| --- | --- | --- |
| Single Pull | 200 Friend Points | N-R |
| 10 Pull | 2,000 Friend Points | N-R |
| Single Pull | 1,000 Friend Points | R |
| 10 Pull | 10,000 Friend Points | R |
Rates
R
Odds shown are rounded off to 2 decimal places. The full number is used in the actual game calculation.
N
| Card icon | Cards | Rate |
| --- | --- | --- |
| | 【Waiting for Spring】 | 0.86% |
| | 【Hanasaki High School】 | 0.86% |
| | 【Alex in Wonderland】 | 0.86% |
| | 【A Clockwork Heart】 | 0.86% |
| | 【Waiting for Spring】 | 0.86% |
| | 【Hanasaki High School】 | 0.86% |
| | 【Alex in Wonderland】 | 0.86% |
| | [Waiting for Spring] Tsuzuru | 0.86% |
| | [Suit & Tie] Tsuzuru | 0.86% |
| | [A Clockwork Heart] Tsuzuru | 0.86% |
| | [Waiting for Spring] Itaru | 0.86% |
| | [Suit & Tie] Itaru | 0.86% |
| | [Alex in Wonderland] Itaru | 0.86% |
| | [A Clockwork Heart] Itaru | 0.86% |
| | [Waiting for Spring] Citron | 0.86% |
| | [Suit & Tie] Citron | 0.86% |
| | [Alex in Wonderland] Citron | 0.86% |
| | [A Clockwork Heart] Citron | 0.86% |
| | [Waiting for Spring] Chikage | 0.86% |
| | [Suit & Tie] Chikage | 0.86% |
| | [Summer Ready] Tenma | 0.86% |
| | [Ouka High School] Tenma | 0.86% |
| | [The Great Sardine Search] Tenma | 0.86% |
| | [Captain Sky's Pirates] Tenma | 0.86% |
| | [Summer Ready] Yuki | 0.86% |
| | [St. Flora Junior High School] Yuki | 0.86% |
| | [The Great Sardine Search] Yuki | 0.86% |
| | [Captain Sky's Pirates] Yuki | 0.86% |
| | [Summer Ready] Muku | 0.86% |
| | [St. Flora Junior High School] Muku | 0.86% |
| | [The Great Sardine Search] Muku | 0.86% |
| | [Captain Sky's Pirates] Muku | 0.86% |
| | [Summer Ready] Misumi | 0.86% |
| | [Suit & Tie] Misumi | 0.86% |
| | [Captain Sky's Pirates] Misumi | 0.86% |
| | [Summer Ready] Kazunari | 0.86% |
| | [Suit & Tie] Kazunari | 0.86% |
| | [The Great Sardine Search] Kazunari | 0.86% |
| | [Summer Ready] Kumon | 0.86% |
| | [Tsukushi High School] Kumon | 0.86% |
| | [Longing for Autumn] Banri | 0.86% |
| | [Hanasaki High School] Banri | 0.86% |
| | [The Stranger] Banri | 0.86% |
| | [Longing for Autumn] Juza | 0.86% |
| | [Ouka High School] Juza | 0.86% |
| | [The Stranger] Juza | 0.86% |
| | [Ginji the Wanderer] Juza | 0.86% |
| | [Longing for Autumn] Taichi | 0.86% |
| | [Ouka High School] Taichi | 0.86% |
| | [The Stranger] Taichi | 0.86% |
| | [Ginji the Wanderer] Taichi | 0.86% |
| | [Longing for Autumn] Omi | 0.86% |
| | [Suit & Tie] Omi | 0.86% |
| | [The Stranger] Omi | 0.86% |
| | [Ginji the Wanderer] Omi | 0.86% |
| | [Longing for Autumn] Sakyo | 0.86% |
| | [Ginji the Wanderer] Sakyo | 0.86% |
| | [Suit & Tie] Sakyo | 0.86% |
| | [Longing for Autumn] Azami | 0.86% |
| | [Tanegaoka Junior High School] Azami | 0.86% |
| | [Winter Is Coming] Tsumugi | 0.86% |
| | [Suit & Tie] Tsumugi | 0.86% |
| | [Winter Is Coming] Tasuku | 0.86% |
| | [Suit & Tie] Tasuku | 0.86% |
| | [Winter Is Coming] Hisoka | 0.86% |
| | [Suit & Tie] Hisoka | 0.86% |
| | [Winter Is Coming] Homare | 0.86% |
| | [Suit & Tie] Homare | 0.86% |
| | [Winter Is Coming] Azuma | 0.86% |
| | [Suit & Tie] Azuma | 0.86% |
| | [Winter Is Coming] Guy | 0.86% |
| | [Suit & Tie] Guy | 0.86% |
| | [Demon Coach] Yuzo | 0.86% |
| | [Spring Troupe Ensemble Cast] Iku | 0.86% |
| | [Spring Troupe Ensemble Cast] Arata | 0.86% |
| | [Spring Troupe Ensemble Cast] Eiji | 0.86% |
| | [Summer Troupe Ensemble Cast] Miki | 0.86% |
| | [Summer Troupe Ensemble Cast] Akito | 0.86% |
| | [Summer Troupe Ensemble Cast] Takuya | 0.86% |
| | [Autumn Troupe Ensemble Cast] Ichiro | 0.86% |
| | [Autumn Troupe Ensemble Cast] Kengo | 0.86% |
| | [Autumn Troupe Ensemble Cast] Julian | 0.86% |
| | [Winter Troupe Ensemble Cast] Yuichi | 0.86% |
| | [Winter Troupe Ensemble Cast] Tsubasa | 0.86% |
| | | 0.86% |