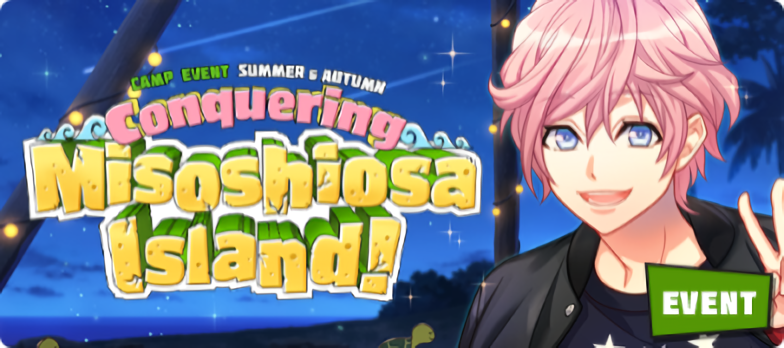 【Conquering Misoshiosa Island! Event Story】
Event Duration
Start: February 23, 2021 19:00 PST
End: March 4, 2021 23:59 PST
How to Play
During the event you will collect Camp Points instead of event points.
You can do limited time practice during Camp Events. Go to the Event Page from your Home page or from the Events tabs in 'Plays', and select the Event Practice you want to complete. Each costs 15 LP. After the event is finished the Event practices will disappear.
Collect a certain amount of Camp points to unlock amazing rewards, and limited-time cards and badges that will only be available here.
Camp SSR cards are available to borrow during shows, they are also available by reaching a certain amount of points.

Their Backstage Story can be read by gaining the SSR card, but a preview is available during the event period.

Rank in the leaderboards to get even more rewards and more copies of exclusive cards. Your rank tier is based by percentage of the number of active participants in the event.
Actors that gives bonuses
These actors can be gained from the reward list in this event and the Mushroom Forest Expedition Tryouts and February Birthday Premium Tryouts
| Big Bonus | Small Bonus |
| --- | --- |
| | |
Special Actors Item Boost
Special Actors will have stats increased and gains more event items. The bonus depends on how many Special Actors are on your team (during shows), and how many times they have been bloomed.
| Rarity | Unbloomed | Bloomed once | Bloomed twice |
| --- | --- | --- | --- |
| : SSR | 150 | 375 | 425 |
| : SSR | 100 | 225 | 375 |
| : SR | 100 | 225 | 375 |
| : SR | +4 | +2 | +1 |
| : R | 50 | 175 | 325 |
Camp Leader
The Camp Leader for this event is:
| Special Training | Requirements |
| --- | --- |
| 🔥 | Have Omi Fushimi appear 10 times in event practices |
| 🔥🔥 | Have Omi Fushimi appear 25 times in event practices |
| 🔥🔥🔥 | Have Omi Fushimi appear 45 times in event practices |
| Total | Have Omi Fushimi appear 75 times in event practices |
| Lead Skill | Requirements |
| 1-2 | Clear 1 show |
| 2-3 | Clear 4 show |
| 3-4 | Clear 5 show |
| 4-5 | Clear 5 show |
| 5-6 | Clear 20 show |
| 6-7 | Clear 25 show |
| 7-8 | Clear 40 show |
| 8-9 | Clear 50 show |
| 9-10 | Clear 70 show |
| Total | Clear 220 show |
Team Skill
Characters
Skill Name
Description
Bonus
1










1










1









Practice Requirements
| Partner | LP | Actor's Rush Mission | Multigroup Mission | Fixed Team Mission |
| --- | --- | --- | --- | --- |
| Tenma | 15 | Set off Actor's Rush | Use 1 actor from Spring Troupe and 2 actors from Winter troupe | Have Banri appear 3 times |
| Muku | 15 | Set off Actor's Rush | Use 1 actor from Spring Troupe and 2 actors from Winter troupe | Have Omi appear 3 times |
| Juza | 15 | Set off Actor's Rush | Use 2 actor from Spring Troupe and 1 actor from Winter troupe | Have Kazunari appear 3 times |
| Taichi | 15 | Set off Actor's Rush | Use 2 actors from Spring Troupe and 1 actors from Winter troupe | Have Yuki appear 3 times |
| Sakyo | 15 | Set off Actor's Rush | Use 2 actors from Spring Troupe and 1 actor from Winter troupe | Have Misumi appear 3 times |
Event Items rewards
Event items rewards go from 50 - 2,500,000. Rewards and Cards may vary from event to event, but it usually follows this pattern:
Point Rewards 50 - 25,000
Points required
Rewards
Points required
Rewards
50Pt
Event Story

100Pt
1 Limited Onigiri

200Pt
3 Limited Kame Bun

333Pt
500 Support Actor Award

400Pt
500 Friend Points

500Pt
Event Story

600Pt
5 Gems

700Pt
1 【Super Demon Coach】

800Pt
2000 Coins

900Pt
1000 Friend points

1000Pt
1 Limited Onigiri

1200Pt
1 【Super Demon Coach】

1500Pt
Event Story

20000Pt
3 Limited Kame Bun

2200Pt
2 Spring Seeds

2500Pt
1 【Super Demon Coach】

3000Pt
5 Gems

3200Pt
2 Summer Seeds

3500Pt
1 Lead Actor Trophy

4000Pt
【Testing My Fishing Skills】

4200Pt
2 Autumn Seeds

4500Pt
2 Winter Seeds

5000Pt
Event Story

5500Pt
2 Spring Buds

6000Pt
2 Summer Buds

6500Pt
5000 Coins

7000Pt
3 Kame Buns

7500Pt
2 Autumn Buds

8000Pt
2 Winter Buds

8500Pt
1 Limited Bento

9000Pt
1000 Friend points

9500Pt
Limited Kame Box

10,000Pt
Event Story

10,500Pt
2 Spring Flowers

11,000Pt
5 Gems

11,500Pt
2 Summer Flowers

12,000Pt
3 Kame Buns

12,500Pt
2 Autumn Flowers

13,000Pt
1000 Friend points

13,500Pt
2 Winter Flowers

14,000Pt
1 Onigiri

15,000Pt
Event Story

16,000Pt
5000 Coins

17,000Pt
Limited Kame Box

18,000Pt
1 Supporting Actor Award

19,000Pt
Event Story

20,000Pt
【Testing My Fishing Skills】

21,000Pt
5 Gems

22,000Pt
1 Lead Actor Trophy

23,000Pt
Event Story

24,000Pt
2 Spring Bud

25,000Pt
3 Limited Kame Bun
Point Rewards 26,000 - 700,000
Points required
Rewards
Points required
Rewards
26000Pt
1 Limited Bento

27000Pt
1000 Friend points

28000Pt
20,000 Coins

29000Pt
1 Limited Onigiri

30000Pt
Event Story

33000Pt
3 Limited Kame Bun

36000Pt
2 Ac 【Super Demon Coach】

40000Pt
【Testing My Fishing Skills】

43000Pt
3 Limited Kame Bun

46000Pt
2000 Friend Points

50000Pt
5 Gems

55000Pt
1 Limited Onigiri

60000Pt
30,000 Coins

65000Pt
Limited Kame Box

70000Pt
Event Story

75000Pt
3 Spring Seeds

80000Pt
【Testing My Fishing Skills】

85000Pt
3 Summer Seeds

90000Pt
3 Limited Kame Bun

95000Pt
3 Autumn Seeds

100000Pt
5 Gems

110000Pt
3 Winter Seeds

120000Pt
1 Limited Bento

130000Pt
1000 Friend Points

140000Pt
Limited Kame Box

150000Pt
3 Spring Buds

160000Pt
1 Limited Bento

170000Pt
3 Summer Buds

180000Pt
3 Limited Kame Bun

190000Pt
3 Autumn Buds

200000Pt
1 Limited Onigiri

220000Pt
3 Winter Buds

240000Pt
Limited Kame Box

260000Pt
2 Co Kashima Yuzo R 【Super Demon Coach】

280000Pt
20000 Coins

300000Pt
5 Premium Tokens

330000Pt
2 Troupe Tickets

360000Pt
2 Ac Kashima Yuzo R 【Super Demon Coach】

400000Pt
1 Limited Bento

430000Pt
3 Limited Kame Bun

460000Pt
2000 Friend points

500000Pt
5 Gems

530000Pt
1 Limited Bento

560000Pt
2 Dr Kashima Yuzo R 【Super Demon Coach】

600000Pt
30000 Coins

630000Pt
Limited Kame Box

660000Pt
3 Limited Kame Buns

700000Pt
【Fruit Picking Team】
Point Rewards 730,000 - 2,000,000
Points required
Rewards
Points required
Rewards
730,000Pt
2000 Friend points

760,000Pt
3 Spring Flowers

800,000Pt
5 Gems

830,000Pt
1 Limited Bento

860,000Pt
1 Limited Kame Box

900,000Pt
3 Summer Flowers

930,000Pt
3 Supporting Actor Award

960,000Pt
3 Lead Actor Trophy

1,000,000Pt
10 Gems

1,050,000Pt
3 Autumn Flowers

1,100,000Pt
1 Limited Kame Box

1,150,100Pt
【Romantic Sandy Beach】

1,200,000Pt
1 Limited Bento

1,250,000Pt
1 Limited Kame Box

1,300,000Pt
3 Winter Flowers

1,350,000Pt
3 Supporting Actor Award

1,400,000Pt
3 Lead Actor Trophy

1,450,000Pt
1 Limited Kame Box

1,500,000Pt
10 Gems

1,550,000Pt
1 Limited Bento

1,600,000Pt
3 Supporting Actor Award

1,650,000Pt
2 Kame Box

1,700,000Pt
【Cooking in Unexplored Lands】

1,750,000Pt
3 Lead Actor Trophy

1,800,000Pt
2000 Friend Points

1,850,000Pt
1 Bento

1,900,000Pt
3 Co 【Super Demon Coach】

1,950,000Pt
3 Lead Actor Trophy

2,000,000Pt
10 Gems
Event Ranking Rewards
Rank
Reward
0.1 - 0.5%
3x




3x




3x

150x

1x

0.6 - 1.0%
2x




3x




2x

100x

1x

1.1 - 2.0%
2x




3x




1x

80x

5x

2.1 - 5.0%
1x




3x




2x

70x

5x

5.1 - 10.0%
1x




2x




2x

60x

10.01 - 20.0%
2x




5000x

2x

50x

20.1 - 30.0%
1x

2x

40x

5x

30.1 - 40.0%
1x




1000x

2x

30x

5x

40.1 - 50.0%
500x
50.1 - 60.0%
2x
60.1 - 80.0%
1x
80.1 - 100.0%
1x

1x

5x