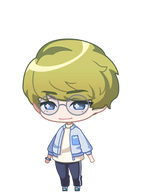 | | | |
| --- | --- | --- |
| " | You should watch out. You're the type to be found first by the enemy on the battlefield. | " |

Chikage Utsuki (卯木千景 Utsuki Chikage) is a member of Spring Troupe. He is a man who has a friendly personality, and lies with a smile while tossing others around. He is Itaru's senior at an elite trading company and often traveled abroad on business trips. Because of this, he is fluent in multiple languages. Even after joining the troupe, he remains an enigmatic person with many mysteries.
He shares room 103 with Itaru after he moves in, in Episode 5.

Appearance
Chikage is a man with grey-blue eyes and dark olive green hair in his twenties. When dressed casually, he wears round glasses, a white turtleneck sweater, a light blue bomber jacket, black track pants with a white stripe, and teal sneakers. On his right hand, he wears a bracelet, and on the middle finger of his left hand, he has a silver ring.
Personality
Chikage is a mysterious man with many secrets, who gives off a strange air. Though he is quite sociable, you can never tell when he is lying or telling the truth. He is a shrewd and cunning man, always calm and composed. It is also noteworthy that Chikage is a fairly polite person. He insists that he is an ordinary salaryman, but clearly he's more than that. He has stated that sometimes he lies because he is afraid of looking weak.
History
Before he joined Mankai Company, Chikage worked as an agent in the same organization as Hisoka. After a failed mission, with resulted in their partner, August, dying, Hisoka disappeared. Chikage was told that Hisoka betrayed the organization causing August's death. As they were each given a suicide serum in the event of a failure and Hisoka remained alive, Chikage believed what he had been told and, enraged, swore revenge.
He later joined Mankai to get revenge on Hisoka, with his final plan to kidnap the director and cause Mankai's collapse. However, Hisoka came to rescue her, memories now restored. After hearing the truth of how August swapped out the serum for an amensia serum, Chikage forgave Hisoka and apologized for all the trouble he had caused. He was welcomed back by Mankai and finally accepted them as his new family and home.

Relationships
Chikage has a good relationship with the rest of the troupe, although they are rather curious about what he's hiding.
Roles
These are the roles Chikage has played:
Oswald/Oz the Wizard in The Wonderful Charlatan of Oz
Gawain in Knights of the Round IV
Etymology
Surname: 卯 = zodiac sign of rabbit 木 = tree;wood
Given name: 千 = thousand 景 = scenery
Trivia
He (secretly) likes animals, especially cats. However, he is not very good with them, as he feels awkward and doesn't know how to act around them.
He has a blog called Chikausa where he reviews spices/curries.
His blue jacket reads "Dece", which refers to the code name "December" used by Hisoka for the organisation they worked for, as seen in Episode 5 - Awakening Moon.