Chigasaki Itaru
【Standing Rehearsal】


【立ち稽古】 茅ヶ崎至

Stats
Rarity
Max Level:
40/60
(min/max):
840/--
(min/max):
1,345/--
(min/max):
1180/--
*Max refers to stats at maximum level (bloomed twice and completely special-trained.)
Information
How to Acquire:
Initial

Available in every scout.
Quote
"I started morning training and now I can do my social gaming early, so I don't want to waste my phsical stength. But I won't go to bed early."
Backstage Story
Ulterior Motives
Lead Skill
The Early Gamer gets the Advantage
Small Ac increase for all units.
Adlib Skill
Today's Morning Gacha
20% probability of Ac increase
Chibi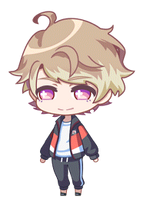 Community content is available under
CC-BY-SA
unless otherwise noted.