Camp Events was first introduced on February 7, 2021 on the EN server. They are similar to Season Events but you collect Camp Points instead items. Camp points can unlock rewards as well as backstage stories of Camp SSR cards.
How to Participate
Events are accessible through the Event button on the Play tab, or directly through the main page slider. If there is currently not an event ongoing, then the button will be grey and you will not be allowed to click on the page.
Overview
Play the Event Practice like you would normally do. However, Shows will randomly pop up during your practice. Complete the performances successfully to gain Event Items.
Collect a certain amount of Camp points to unlock amazing rewards, and limited-time cards and badges that will only be available here.
Camp SSR cards are available to borrow during shows, they are also available by reaching a certain amount of points.

Their Backstage Story can be read by gaining the SSR card, but a preview is available during the event period.

Rank in the leaderboards to get even more rewards and more copies of exclusive cards. Your rank tier is based by percentage of the number of active participants in the event.
Duration
Events usually start at 19:00 PST/PDT or After Maintenance (around 8-9 PM) and last 10 days, including the starting day and end at 23:59 PST/PDT.
After Events finish, the Event Programs will only be available from the Main tab. You will not be able to further play the event and get points for it, but may look at the list of Rewards, your final ranking, etc. The Practice will NOT be moved to the Plays tab after the event has ended and you will no longer be able to play it.
You will still be able to read Event Chapters after the Event has finished.
Special Cards
Some cards will offer boosts during shows. Using them in your Show team or having them as a Guest Actor will give an advantage. These bonuses will not occur when Special Actors are used as Support Roles (where members are selected automatically).
Camp Leaders and Limited-time cards offered in the paired tryout will give big bonuses, shown with a

icon.
SR and SSR Cards from the Event Reward List and Birthday Cards from the Premium Tryouts of that month will give smaller bonuses, displayed with a

icon.
Positive effects include:
Event Performance Boost - Special Actors will provide performance boosts for Co, Ac, and Dr during the event period.
Increased Event Items - Clearing an Event Show with a Special Actor will result in an increase in rewarded Event Items. Event Items earned will also go up depending on a) how many Special Actors you have on your Team and b) how many times they have been bloomed.
Special Actors Item Boost
Special Actors will have stats increased and gains more event items. The bonus depends on how many Special Actors are on your team (during shows), and how many times they have been bloomed.
| Rarity | Unbloomed | Bloomed once | Bloomed twice |
| --- | --- | --- | --- |
| : SSR | 150 | 375 | 425 |
| : SSR | 100 | 225 | 375 |
| : SR | 100 | 225 | 375 |
| : SR | 50 | - | - |
| : R | 50 | 175 | 325 |
Stat Bonus
| Type | Unbloomed | Bloomed + | Bloomed ++ |
| --- | --- | --- | --- |
| | 2x | 3x | 4x |
| | 1.1x | 1.2x | 1.3x |
Practice and Shows
When a Show pops up, meet the amount of Points required. Spend SP to play a show. Kame Boxes

and Kame Buns

will replenish it.
If you cancel a Show, the required points will go down. Show Points correspond with the number of Event Items you earn.
Shows rotate in Matinees, Soirees, and Finales. Sometimes after those, there is a random chance of an Encore appearing. Encores require much more points.
Use Cheer Boosts with extra SP to multiply your points. If you fail to meet the Pt requirement of the Show, you have another chance to successfully meet it.
Don't cancel an Encore unless you run out of time because they are a good chance to get a lot of Event Items at once.
Camp Leader
Camp leaders (A limited SSR++ card) are earned by collecting Camp points. The stats of the camp leader's SSR card can be found on the main event page.
Obtain Card: Reach 2.2 mill Camp points
Increase Card Level: Earn a certain amount of show points with the camp leader as a guest actor
Special Train: Have the camp leader appear during event practices a set number of times
Lead Skill: Clear shows a set amount of shows with the camp leader as a guest actor
The camp leader's lead skill will activate for all performance types (Co/Ac/Dr) during the event. If you call it as a guest support in performances, it will also increase the chance of an Expert Show spawning by 10%.
The Camp Leader will be gained if the icon is shown in pink like so: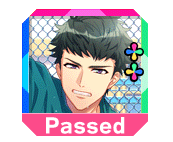 If it is shown with a 'Trial' underneath, it can not be gained as you have not gained enough points.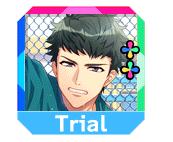 Note:
Players can confirm wether the Camp Leader is displayed as 'Trial' or 'Passed' by referring to the Event page once the Event begins.
Camp Leader cards will give a small bonus for the next two upcoming events
Camp Backstage Stories
These can only be unlocked if the player gains the cards from the Prizes. Read more about Camp Backstage Stories at the this page. A sample of the Camp Backstage Stories can be read during the event.
Detailed Requirements

| Special Training | Requirements |
| --- | --- |
| 🔥 | Have the camp leader appear 5 times in event practices |
| 🔥🔥 | Have the camp leader appear 25 times in event practices |
| 🔥🔥🔥 | Have the camp leader appear 45 times in event practices |
| Total | Have the camp leader appear 75 times in event practices |
| Lead Skill | Requirements |
| 1-2 | Clear 1 show |
| 2-3 | Clear 4 show |
| 3-4 | Clear 5 show |
| 4-5 | Clear 5 show |
| 5-6 | Clear 20 show |
| 6-7 | Clear 25 show |
| 7-8 | Clear 40 show |
| 8-9 | Clear 50 show |
| 9-10 | Clear 70 show |
| Total | Clear 220 show |
Show Levels
This event, extra show levels are unlocked upon acquiring the event SSR.
| Type | Points Required | Base Pts Earned |
| --- | --- | --- |
| Matinee | 223,662 | 2236 |
| Soiree | 405,355 | 4864 |
| Finale | 670,002 | 9380 |
| Expert | 1,212,622 | 18 189 |
Limited Team Skills
This event also features limited Team Skills involving the Tryouts and event cards. The skills activate when the overall strength of the team is more than 115,000 show points. Each team skill gives a % show point bonus + 500 training camp points.
Camp Event Team Skills will take priority over regular Team Skills.
After the event ends the Camp Team Skill will no longer be usable.
Event Items rewards
Event items rewards go from 50 - 2,500,000. Rewards and Cards may vary from event to event, but it usually follows this pattern:
Point Rewards 50 - 25,000
Points required
Rewards
Points required
Rewards
50Pt
Event Story

100Pt
1 Limited Onigiri

200Pt
3 Limited Kame Bun

333Pt
500 Support Actor Award

400Pt
500 Friend Points

500Pt
Event Story

600Pt
5 Gems

700Pt
1 【Super Demon Coach】

800Pt
2000 Coins

900Pt
1000 Friend points

1000Pt
1 Limited Onigiri

1200Pt
1 【Super Demon Coach】

1500Pt
Event Story

20000Pt
3 Limited Kame Bun

2200Pt
2 Spring Seeds

2500Pt
1 【Super Demon Coach】

3000Pt
5 Gems

3200Pt
2 Summer Seeds

3500Pt
1 Lead Actor Trophy

4000Pt
R Card
4200Pt
2 Autumn Seeds

4500Pt
2 Winter Seeds

5000Pt
Event Story

5500Pt
2 Spring Buds

6000Pt
2 Summer Buds

6500Pt
5000 Coins

7000Pt
3 Kame Buns

7500Pt
2 Autumn Buds

8000Pt
2 Winter Buds

8500Pt
1 Limited Bento

9000Pt
1000 Friend points

9500Pt
Limited Kame Box

10,000Pt
Event Story

10,500Pt
2 Spring Flowers

11,000Pt
5 Gems

11,500Pt
2 Summer Flowers

12,000Pt
3 Kame Buns

12,500Pt
2 Autumn Flowers

13,000Pt
1000 Friend points

13,500Pt
2 Winter Flowers

14,000Pt
1 Onigiri

15,000Pt
Event Story

16,000Pt
5000 Coins

17,000Pt
Limited Kame Box

18,000Pt
1 Supporting Actor Award

19,000Pt
Event Story

20,000Pt
R Card
21,000Pt
5 Gems

22,000Pt
1 Lead Actor Trophy

23,000Pt
Event Story

24,000Pt
2 Spring Bud

25,000Pt
3 Limited Kame Bun
Point Rewards 26,000 - 700,000
Points required
Rewards
Points required
Rewards
26000Pt
1 Limited Bento

27000Pt
1000 Friend points

28000Pt
20,000 Coins

29000Pt
1 Limited Onigiri

30000Pt
Event Story

33000Pt
3 Limited Kame Bun

36000Pt
2 Ac 【Super Demon Coach】

40000Pt
R Card
43000Pt
3 Limited Kame Bun

46000Pt
2000 Friend Points

50000Pt
5 Gems

55000Pt
1 Limited Onigiri

60000Pt
30,000 Coins

65000Pt
Limited Kame Box

70000Pt
Event Story

75000Pt
3 Spring Seeds

80000Pt
R Card
85000Pt
3 Summer Seeds

90000Pt
3 Limited Kame Bun

95000Pt
3 Autumn Seeds

100000Pt
5 Gems

110000Pt
3 Winter Seeds

120000Pt
1 Limited Bento

130000Pt
1000 Friend Points

140000Pt
Limited Kame Box

150000Pt
3 Spring Buds

160000Pt
1 Limited Bento

170000Pt
3 Summer Buds

180000Pt
3 Limited Kame Bun

190000Pt
3 Autumn Buds

200000Pt
1 Limited Onigiri

220000Pt
3 Winter Buds

240000Pt
Limited Kame Box

260000Pt
2 Co Kashima Yuzo R 【Super Demon Coach】

280000Pt
20000 Coins

300000Pt
5 Premium Tokens

330000Pt
2 Troupe Tickets

360000Pt
2 Ac Kashima Yuzo R 【Super Demon Coach】

400000Pt
1 Limited Bento

430000Pt
3 Limited Kame Bun

460000Pt
2000 Friend points

500000Pt
5 Gems

530000Pt
1 Limited Bento

560000Pt
2 Dr Kashima Yuzo R 【Super Demon Coach】

600000Pt
30000 Coins

630000Pt
Limited Kame Box

660000Pt
3 Limited Kame Buns

700000Pt
1 Limited SR
Point Rewards 730,000 - 2,500,000
Points required
Rewards
Points required
Rewards
730,000Pt
2000 Friend points

760,000Pt
3 Spring Flowers

800,000Pt
5 Gems

830,000Pt
1 Limited Bento

860,000Pt
1 Limited Kame Box

900,000Pt
3 Summer Flowers

930,000Pt
3 Supporting Actor Award

960,000Pt
3 Lead Actor Trophy

1,000,000Pt
10 Gems

1,050,000Pt
3 Autumn Flowers

1,100,000Pt
1 Limited Kame Box

1,150,100Pt
1 Limited SSR
1,200,000Pt
1 Limited Bento

1,250,000Pt
1 Limited Kame Box

1,300,000Pt
3 Winter Flowers

1,350,000Pt
3 Supporting Actor Award

1,400,000Pt
3 Lead Actor Trophy

1,450,000Pt
1 Limited Kame Box

1,500,000Pt
10 Gems

1,550,000Pt
1 Bento

1,600,000Pt
3 Supporting Actor Award

1,650,000Pt
2 Kame Box

1,700,000Pt
3 Lead Actor Trophy

1,750,000Pt
2000 Friend Points

1,800,000Pt
1 Bento

1,850,000Pt
2 Co 【Super Demon Coach】

1,900,000Pt
3 Lead Actor Trophy

1,950,000Pt
2 Kame Box

2,000,000Pt
5 Gems

2,050,000Pt
3 Ac 【Super Demon Coach】

2,100,000Pt
1 Bento

2,150,000Pt
3 Lead Actor Trophy

2,200,000Pt
1 SSR card
2,250,000Pt
2 Kame Boxes

2,300,000Pt
3 Dr 【Super Demon Coach】

2,350,000Pt
30,000 Coins

2,400,000Pt
3 Lead Actor Trophy

2,450,000Pt
1 Kame Boxes

2,300,000Pt
10 Gems
Ranking Rewards
Card and badges vary in each Event, however it follows a general format:
Rank
Reward
0.1 - 0.5%
0.6 - 1.0%
1.1 - 2.0%
2.1 - 5.0%
5.1 - 10.0%
10.1 - 20.0%
20.1 - 30.0%
30.1 - 40.0%
40.1 - 50.0%
50.1 - 60.0%
60.1 - 80.0%
80.1 - 100.0%
Past Camp Events