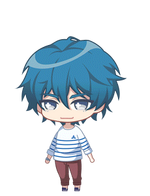 Arata Seto (瀬戸 新太) is an ensemble cast of the Spring Troupe.
Appearance
Arata has dark blue hair and light-green eyes.
He usually wears a white jumper with blue stripes and a grey watch.
Personality
Arata is a very calm guy who is very natural with a clear voice when he acts. He is very eager to practice acting. He is very good at noticing small but important details.
History
Arata is in a drama club at college where he has some experience with using his voice. He is not experienced with acting, but wants to join a troupe to study it. He has been a big fan of the Mankai Company ever since he first saw them act. He was invited to a show by a friend. He was very happy when he was elected to join the Spring Troupe, which also is his favorite troupe.
Etymology
The name Arata means "fresh, new" (新) (ara) and "thick, big, great" (太) (ta).
Arata's surname Seto means "swift current, rapids" (瀬) (se) and "door" (戸) (to).
Normal Home Screen Quotes
| Occation | Line | Audio |
| --- | --- | --- |
| Morning | Good morning! Let's do our best today. | |
| Noon | I don't have class in the afternoon. Could I pop by and observe practice? | |
| Evening | Good evening. Dinner smells good. | |
| Night | I'm gonna work on this report a bit more before heading to bed. Good night. | |
| Regular | I'm really enjoying that fishing game Itaru introduced me to. | |
| Regular | Ahaha, you won't win anything by touching me. | |
| Regular | Mankai Company seems like a great troupe. | |
| Regular | Huh? | |
Special Home Screen Quotes
| Occation | Line | Audio |
| --- | --- | --- |
| Player's Birthday | Happy Birthday! Please do your best with your director duties! | |
| Arata's Birthday | Thanks for the birthday wishes! I'm looking forward to our next play! | |
| 1st Anniversary | Congrats on our first year! I'm cheering for all of us to succeed! | |
| 2nd Anniversary | Congratulations on the 2nd anniversary! I'll keep working hard! | |
Practice Quotes
Line
Leave all the yelling to me!
I like this scene!
On page 37, is this...?
Play-crying is hard...
Phew! That was a workout!